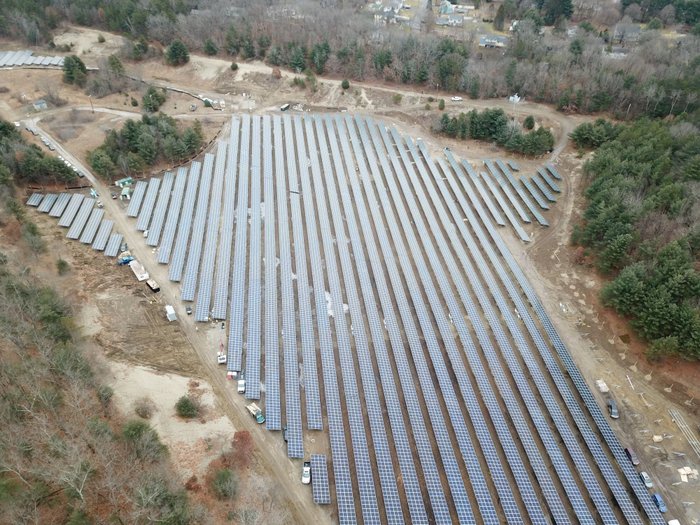 Standard Solar Expands Massachusetts Portfolio with Solar + Storage Project in Acton
The city of Plymouth, Massachusetts and the Acton Water District will soon be home to an innovative 4.69 MW solar and 4 MWh storage project. Solar Standard acquired the project from the developer EDF Renewables North America. The project received a state award Massachusetts Solar Renewable Targets (SMART), which offers incentives for solar and storage projects.
Located on land owned by the District of Acton Water, the Lawsbrook Solar + Storage project will allow the City of Plymouth and the District of Acton Water to benefit from reduced electricity and system rental revenue. The project will further Commonwealth solar and energy storage goals by adding clean energy to the bulk electrical system while supplementing the project with a battery to offload clean energy during peak hours of the evening, reducing the need to rely on dirtier energy sources during these times. .
Expected to generate 5,866 MWh of clean energy each year, the system will power an average of 800 Massachusetts homes while offsetting the carbon dioxide equivalent of burning 4.5 million pounds of coal. The project is being built on the WR Grace Superfund site and was awarded through a tender to EDF Renewables in 2018. A groundwater well field in the district, which forms part of the water supply drinking water from the city, will be used in conjunction with this project. Previously, the property that housed this project had been disturbed by gravel extraction and is part of the larger WR Grace Superfund site. Due to the various environmental sensitivities of the site, permitting the project required obtaining approvals at various levels of federal, state and local governments.
"Standard Solar is a leader in driving the clean energy movement across the country," said Eric Partyka, Director of Business Development, Standard Solar. "Adding this solar + storage project to our existing portfolio in Massachusetts underscores our rapid growth. It's always meaningful when we connect with a great partner like EDF Renewables and acquire projects that help a city like Plymouth and the Acton Water District capitalize on the multiple benefits of a solar and storage system. We look forward to adding many more projects like this to our portfolio in 2022 and beyond.
"The Acton Water Solar + Storage project is the first of two projects on which EDF Renewables has been privileged to partner with the Acton Water District," said Peter Bay, Associate Director, Business Development for EDF Renewables. "We are delighted to see the project come to fruition, despite the many permitting and interconnection issues, and to begin passing on the benefits to the District and City of Plymouth. The Acton Water District team have been a fantastic partner on the project and provided great support to ensure the success of the venture. We appreciate having a reputable partner in Standard Solar as the long term owner of the site.
"After a few years of hard work by everyone involved, we are extremely pleased to have this renewable energy project come online," said Christ Allen, District Manager, Acton Water District. "In the water supply industry, we fully understand the impacts of global climate change and the role reliance on fossil fuels plays. We are committed to doing our part by reducing our carbon footprint, as water and wastewater treatment are very energy-intensive processes. Our partnership with EDF Renewables, such a competent and experienced company, gave us great peace of mind to venture into a technology where we had no experience. It gives us great pride to commission our first solar project and help save the climate.
The SMART program was established in 2016 by the Massachusetts Department of Energy Resources and is a long-term sustainable solar incentive program designed to advance profitable solar development in the state. The new Lawsbrook Solar and Storage Project will help the Commonwealth of Massachusetts meet its Renewable Energy Portfolio Standard as well as its recently codified 2030 and 2050 goals for a statewide clean energy economy.
In late 2021, the Massachusetts Department of Utilities issued an order doubling the SMART program, expanding the block incentive program to 3,200 MW of solar capacity. This decision creates capacity for new projects and releases a bottleneck of stalled projects.
Have you checked out our YouTube page?

We have a ton of video interviews and additional content on our YouTube page. Recently we debuted Power forward! — a collaboration with BayWa re to discuss high-level industry topics as well as best practices/trends for running a solar business today.
Our longer side project is Field — in which we have awkward discussions with solar manufacturers and suppliers about their new technology and ideas so you don't have to. We discussed everything from residential trackless bridge attachment and home solar financing for large-scale energy storage value stacking and new utility house solar micro-grids + storage.
We also publish our Project of the year ads there! Interviews with this year's winners will begin the week of November 8. Go ahead and subscribe today to stay up to date with all that extra stuff.
Tags: municipal, Solar Standard