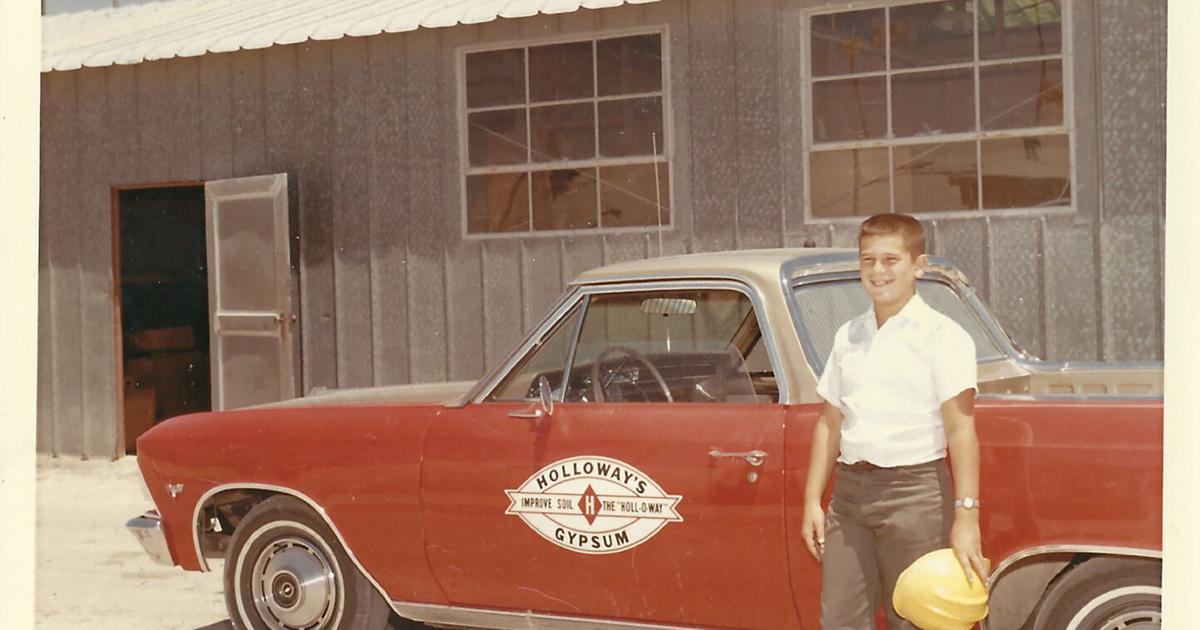 Agricultural supplier testifies to 50 years of local farming | News
Vard Terry drove from Bakersfield to Paso Robles not too long ago to visit a retired farm manager and former client who contacted him after hearing him talk on the radio about the agricultural enterprise.
For at least two hours, they chatted over coffee on the porch, gazing out over rolling hills of manicured vineyards and remembering the early days of California farming.
They laughed at the mistakes made during the region's sometimes bumpy transition from mostly cotton, alfalfa and other row crops to mostly orchards and vineyards.
"We just remembered. It was so good," he said.
For Terry, chairman of Holloway, a Bakersfield-based agriculture, mining and logistics company, the visit was a reminder of how much has changed in local agriculture since he joined the company there turns 50 on Saturday.
Having worked closely with farmers large and small, he has a broad perspective on what the industry has been through over the past half century. On his work anniversary, he shared some of his observations during a conversation with The Californian.
Born in Wasco, Terry grew up in Holloway. His father, Vard Terry Sr., was the company's mining superintendent, and the younger Terry enjoyed watching the heavy machinery in operation at the company's gypsum mine in Lost Hills. Later, as a salesperson for the company, he traveled much of the Central Valley, building trust and lasting relationships with his customers.
Looking back, he says the water situation in the region has changed dramatically. This has resulted in advancements and investments in irrigation technology for more precise and efficient application.
The changes he has experienced go far beyond. They range from a sharp tightening of the job market and greater automation to smarter applications of science through things like soil, tissue and water sampling.
"Twenty years ago we were repeating what we did more than today (saying) 'Let's look at this scientifically,'" he said.
One of the most significant changes has been the shift from row crops such as cotton, wheat and sugar beets to so-called permanent higher margin crops such as almonds, citrus fruits, pistachios and table grapes. .
Some farmers Terry knew swore they would never make the change. It was a huge risk at the time which required substantial investments in new equipment and redevelopment of the land. In addition, producers had to be able to go without income for at least five years – or about seven for pistachios.
Many small family farms ended up selling, surprised at the value of their land. Meanwhile, consolidation has increased to such an extent that much, but not all, of the region's farmland is owned by corporations.
Local producer and farm manager Mike Giannini estimates that he has had breakfast with Terry and four others almost every day for 25 years. Together they had to adopt new practices as rising costs almost forced farmers to start planting orchards and vineyards.
Over the years, his family has grown alfalfa, broccoli, cabbage, carrots, cotton, radishes, sugar beets, watermelons and wheat. But nowadays, family farms are roughly evenly divided between almond and pistachio orchards.
Giannini said he had seen the labor pool shrink to the point that it was "increasingly difficult to keep people for pruning and harvesting."
Water is the biggest concern, he said, attributing the shortages to a "man-made drought". The term refers to criticism that fresh water used in support of the state's environmental priorities has reduced irrigation deliveries to producers in the Central Valley.
Red tape related to employment has become more onerous, Giannini added. Family farms have been sold or retired without any family member coming in for them. The holdings of large companies are only growing, he said.
"Our farmers have been farming here for generations and it's hard to lose that," he said. "It's been a great career, you know?"
Gary Castro worked with Terry for many years as a Visalia based drywall hauler. He said he saw the paperwork requirements increase during this time. New air quality rules mean it will have to replace 20 spreader trucks next year.
"Everything is changing," he said. "I mean, they are putting more and more regulations on agriculture."
Terry agreed that family farms are becoming scarce and harvesting labor is "much harder" to come by these days.
But there have also been positive changes, such as increased reliance on pest management advisers and agronomists, so that farming decisions are made on the basis of data and studies. He added that chemicals and herbicides continue to make big gains in terms of safety and efficacy.
Terry also highlighted tests of all kinds and the advent of aerial drones that locate hot and cold spots in previously invisible farmland. He also noted that automation had improved a lot in its day and that in recent times there had been more emphasis on improving dust control during kernel harvesting.
Terry's son, Daniel, followed his father into the business, as he and his brother did. Holloway CEO Brian Maxted said in a statement that Chairman Terry was an example of the company's values, passed down from generation to generation, of selfless confidence, experience and ambition.
Holloway has changed a lot since it was founded in 1932 as a gypsum mine. Its sale about nine years ago accelerated the diversification of its product line.
The company now has more advanced gypsum processing equipment. It also sells compost, lime, sulfur and services ranging from agronomy to logistics to orchard redevelopment.
Through it all, Terry noted that Holloway still uses the same mill he knew as a child, fascinated by his father's job in Lost Hills.