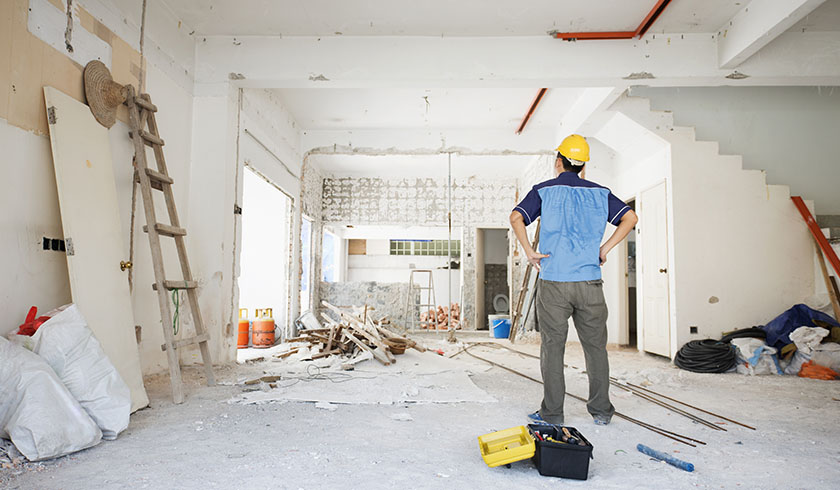 5 ways to finance your renovation
Throughout the pandemic, all eyes were on the phenomenal increase in real estate prices across the country. However, another sector of the real estate market exploded during this period: the renovation boom.
Australia's renovation boom has seen homeowners and investors spend an average of $76,000 on home improvements, according to realestate.com.au's property finder report.
This figure rises to another $107,000 for those renovating with the intention of selling or renting their property.
However, a separate study by comparison site Finder found that while almost half of all Australians can afford to finance a renovation with their savings, the remaining 53% need to access some type of loan.
If you are an investor or a homeowner wishing to finance your renovation project, here are several loan options and financing sources that may be available to you.
What type of loan do I need for a renovation?
Here are the different types of loans that investors and homeowners can use for their renovation projects:
1. Construction Loans
If you are undertaking a major renovation project such as extending your property or tearing down and rebuilding, a construction loan could be the solution.
HHow do construction loans work? Typically, the loan amount will be based on the estimated value of your property after renovation, giving you the flexibility to withdraw the amount you need to pay the last renovation-related bill that has arrived.
This means that borrowers for this type of loan receive their money in installments. And because you pay each bill as you go, you won't have to pay interest on your construction costs until the work is actually complete, giving you better cash flow.
This type of home could be in addition to the existing mortgage on your property (also known as a second mortgage). In some cases, you can refinance your existing home loan into a construction loan, depending on the lender's rules and what best suits your needs.
So what do you need to apply for a construction loan? When applying for a construction loan, the lender usually requires a copy of the construction/tender contract and plans.
Subsequently, the bank or credit institution will ask its appraiser to provide an estimate of the value at completion of the property and will assess your loan on the lesser of the price of the land in addition to the cost of construction or value at completion.
RRemember that with this type of loan, lenders will also request invoices from builders and contractors in order to release the next "drawdown" of funds.
Benefits of Construction Loans
Low interest rate option

Loan applications are processed and approved quickly and easily
Only one home loan to repay (if debt is restructured)

Significant amount of cash available if the property has accumulated a lot of equity
Disadvantages of construction loans
Higher loan balance means longer repayment period

Requires ongoing communication between borrower, lender and contractors

No more long-term interest charges
Clever tip:
Remember that as you reduce your loan, the amount of interest you pay will start to increase. You will need to factor this into your cash flow.
Another option for financing your renovations is a personal loan. A personal loan will generally allow you to borrow up to $50,000, but some lenders may have higher loan limits.
Research by comparison site Finder showed that around 17% of Australians would consider using a personal loan to pay to make their home improvement plans a reality.
A personal loan can take two forms: secured or unsecured. Generally, secured financing will be cheaper than unsecured financing because lenders have collateral that they can use if the borrower defaults on their loan.
However, keep in mind that the interest rate on this type of loan can vary widely and will depend on the financial product, terms and conditions, and your credit history.
Advantages of Personal Loans
Requests are often processed quickly

Usually require no collateral for unsecured personal loans

Fast and flat-rate financing
Disadvantages of personal loans
Often carry high interest rates

Managing another repayment outside of your home loan

More expensive option compared to financing the renovation with a mortgage
Clever tip:
Keep in mind that repayments on personal loans tend to be higher than regular loans because the loan term is shorter. With this, it is advisable to take out a personal loan if your renovation is small (for example, simple cosmetic renovations) and will not require major expenses.
3. Refinance your home loan
Refinancing your home loan could be an option to consider when looking for a way to finance your renovation.
The idea behind refinancing to renovate is to get extra cash to fund your renovations.
In order to obtain the renovation capital, you will need to switch or refinance with a new or existing lender and increase the amount you owe the lender.
Start your refinance plan by reviewing your existing home loan rate and comparing it to similar products on the market.
After finding a similar mortgage with a lower rate and features that meet your needs (such as an offset account or withdrawal facility), use a borrowing power calculator to understand how much you can borrow and what your repayments would look like with a larger mortgage.
Then apply for your new loan. Once approved, your new lender will help you leave your old lender.
Benefits of refinancing your home loan
Low interest option compared to a personal loan or credit card

Refinancing at a lower rate means more savings

Maintain a single payment
Disadvantages of refinancing your mortgage
Longer application process compared to personal or construction loans

Usually comes with closing costs such as exit or switch fees from your old loan (especially if you need to break a fixed rate) and fees for the new loan

The new loan can potentially default to a 30-year term, making it even longer until you own your home or investment property.
Clever tip:
If you don't have a lot of equity or the value of your property has gone down, refinancing might be more difficult or might even cost you mortgage loan insurance (LMI) if your loan-to-value ratio (LVR) exceeds 80% . .
4. Home Equity Loan
A home equity loan can allow you to borrow against the equity in your home, which you can use for any purpose, including renovating your home or investment property.
Equity refers to the difference between what you owe on your property (loan balance) and its current value. For example, if you owe $500,000 on your home loan and your home is currently valued at $750,000, you have accumulated $250,000 in equity.
With a line of credit loan, you can tap into that equity. Of course, your lender will offer you a credit limit based on your equity, and you can use as much or as little as you want.
You can think of it as a line of credit attached to your home loan; only every dollar you spend adds a dollar of debt to your home loan.
Benefits of a home equity loan
Offers flexibility since once approved, you can use as much or as little of your credit limit as you want

You will only be charged interest on the amount you actually used for your renovation project
Disadvantages of a home equity loan
This type of loan usually comes with a higher interest rate than standard mortgages

Can be difficult to manage. Since you have easy access to funds, it is very easy to overspend

Stricter loan criteria, making it harder to get approved
Clever tip:
With a home equity loan, your repayments will increase based on the amount of money you access, so make sure you are financially able to afford your repayment amount.
5. Other Home Renovation Financing Options to Consider
IIf your renovation is likely to require a lower cost, there are other types of financing that may be appropriate. For example, you might consider a credit card to finance your renovations.
However, most experts advise against using a credit card to finance your renovations, as high interest rates can add a significant premium to the total cost of your renovations.
Instead, owners are recommended to consider it their absolute last resort.
Additionally, you can also research grants or interest-free loans that may be available in your state or region for certain types of home improvement projects.
For example, some states and territories in Australia offer incentives and grants for first-time home buyers the purchase of a property that they plan to renovate.
Disclaimer: The information provided should be considered general information and is not a substitute for professional advice. We strongly recommend that you consult with a licensed mortgage broker or financial advisor when seeking financial advice that will best suit your goals and financial situation.
Smart Property Investment provides Australian property investors with much-needed information, strategies and real-world experiences to help guide successful buying and selling decisions in the Australian property market.
Connect to our podcasts covering a variety of topics related to the real estate market. You can also follow Smart Property Investment on social networks: Facebook, Twitter and LinkedIn.
RELATED TERMS
Ready to build
A construction loan is a type of home loan for individuals who are building or carrying out major renovations to a home instead of buying an already built property.
Ready to build
A construction loan is a type of home loan for individuals who are building or carrying out major renovations to a home instead of buying an already built property.